Celebrate Pride, Fight Fraud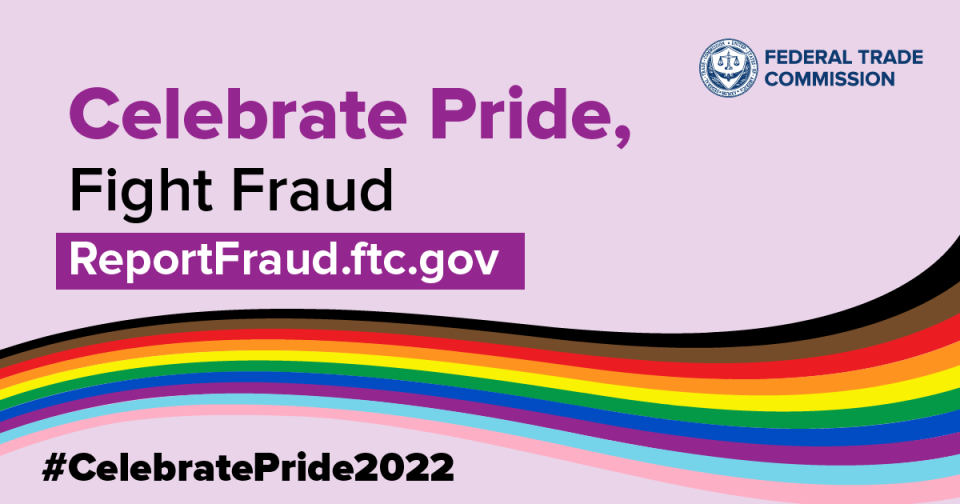 Fraud affects every community, and some of the most egregious scams and abuses target the LGBTQ+ community. This Pride Month, the FTC wants to help the community fight back.
LGBTQ+ consumers face a unique set of challenges. Many of the same tools we use to connect and build community can also be weaponized by scammers and their enablers.
For example, scammers can prey on us through dating apps, and threaten to shame us to family and friends if we don't pay up. And geolocation-based apps that help us connect with our neighbors can also be weaponized by scammers, who can use the valuable data on our whereabouts to threaten us with harm. Corporations that roll out the Pride Flag every June may be facilitating these frauds by enabling romance scammers to use their platforms to harm people or selling our personal information to the highest bidders.
Thankfully, the LGBTQ+ community is uniquely suited to fight back. One of the biggest impediments to stopping fraud is shame — many of us are embarrassed to admit that we've been scammed, so we don't report the fraud to law enforcement or tell our communities about how to avoid it. To those of us in the LGBTQ+ community, this may feel familiar — we know how shame can hold us back and prevent us from demanding justice. But one of the great achievements of the LGBTQ+ community has been our ability to overcome that shame, and to work together to fight back against bigotry and hate. In fact, that's the whole point of Pride Month — to take pride in who we are, rather than feel ashamed.
This Pride Month, the FTC hopes that LGBTQ+ consumers can take pride in fighting back against fraud and other abuses. This month, we'll discuss some consumer protection issues that affect the LGBTQ+ community — including how to fight back against cryptocurrency schemes, and romance scams, and about your rights when it comes to credit discrimination. Unfortunately, we often see cryptocurrency and romance scams rolled together — and you'll learn about that, too.
We hope you'll share FTC resources, as well as these blogs and graphics, with your friends and family, on social media, and far and wide within the LGBTQ+ community.
Most importantly, we hope that when you spot a scam, you'll tell a friend or loved one. Believe it or not, that one act helps you protect yourself from the scam — and it helps your loved one know how to avoid that scam, too.
Then, we hope you'll tell the FTC at ReportFraud.ftc.gov. Because every report helps us and our law enforcement partners go after companies committing fraud, scams, and bad business practices that hurt the LGBTQ+ community.
SOURCE: Celebrate Pride, Fight Fraud | Consumer Advice (ftc.gov)